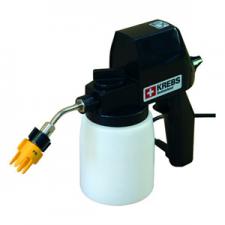 Krebs LM 25 Electric Food Spray Gunby Krebs
The Krebs LM25 is the perfect food-safe handheld gun for spraying most low- to medium-viscosity liquids including butter, oil, chocolate, jelly, sauces, marinades, fat and egg.
The LM25 includes: F7S flat fan nozzle with bent nozzle extension and round jet nozzle R6. Other nozzles also available but sold separately.

Spray Patterns

Bakers love it for the ease of greasing baking sheets and tins and spraying oil and glazes. Fast, economical, accurate and food-industry approved, it's the alternative to the brush or non-food-regulation-compliant paint gun. Used in food factories, bakeries, cake shops, restaurants, butcher stores, hospitals, pubs, hotels, canteens and fast food outlets.

Optimal spraying of flat surfaces and objects like baking trays with the flat-jet-nozzle F7S4. The bent nozzle extension is ideal for spraying upwards, downwards or on edges and slants. Thick to fine spray finish, with excellent material distribution and economical use of material, yielding quick return on investment. Certified food proof (food safe) by Laboratory of Zurich, each component designed to comply with EU Food standards and US Food and Drug Administration regulations.

Simple to use. Compressed air not required. Easy to clean and maintain with unique Krebs service screw. Viscosity max (DIN-sec.): 120. Delivery rate max (water): 280 g/min. Dynamic pressure max (bar): 160. Stainless steel piston, tungsten carbide pump cylinder. 700ml container. Flat jet nozzle with tungsten carbide indet number F7S. 1.8m wire length. Made in Switzerland.

add to cart